Commercial & Residential Roofing in Tulsa, Oklahoma
Tulsa Residential and Commercial Roofing Professionals
VH1 Roofing is proud to call Tulsa, Oklahoma home. Our professionals have worked in the roofing industry in Tulsa and the surrounding area for over 20 years.
Local Roofers in Tulsa, Bixby and Broken Arrow
When you choose VH1 Roofing you're supporting local families who live and work in the communities of Tulsa, Sand Springs, Catoosa, Bixby, Sapulpa, Broken Arrow, Jenks, Turley, and Owasso.
We are a team of GAF certified roofers who use the latest installation techniques and the best materials to give you a roof you can trust to last. VH1 will be here in Tulsa for your roofing needs over the long haul with a full-service warranty you can count on. 
Tulsa's First Choice for Roof Repair and Roof Installation
We believe in the services we provide including roof repair, roofing installation, and skylight repair. We believe in excellent customer service because we value your business. 
We aim to provide our neighbors, family and fellow Tulsans with the best roofing experience possible and are proud to call the great city of Tulsa home. We want to provide Tulsans with the best roofing experience possible, every time. 
Storm Damage? We Provide 24/7 Emergency Roof Repair.
We understand that emergencies don't always happen between the hours of 9 and 5, and allowing the elements into your home or business doesn't make for a good night's rest. We're available 24/7 to provide emergency roof repair in Tulsa to protect your property and the people most important to you. 
Storm Damaged Roof Repair in Tulsa
Tulsa deals with varying weather and precipitation that can affect your home or business's roof including hail storms, snow, high winds, and tornadoes. We respond quickly to your emergency so you can avoid the costly and dangerous hazards associated with a leaky roof including:
Water damage to ceilings and attic

Structural damage 

Insulation damage 

Electrical fire 
Tulsa's weather can bring the unexpected, but you can count on us. Call us at 918-630-7788  anytime and we'll work to get your roof tarped tightly and protected quickly.
Free Roof Inspections in Tulsa
We can also inspect your roof after a storm or severe weather to ensure there are no hidden issues. If we find any damage, we can work with your property insurance company to file a claim and provide an estimate for roof replacement and repair. We know what Homeowners Insurance Companies are looking for and can work directly with insurance adjusters to save you the hassle. 
You can also look for signs of damage to your roof including checking downspouts for shingle granules, light coming through the attic, and water stains on ceilings or walls.
Why Choose VH1 Roofing for your Residential Roof Repair and Installation in Tulsa?
Our professional contractors are committed to helping our local community. We pride ourselves on honest pricing, superior craftsmanship and top-notch customer service to ensure our customers' trust and satisfaction. We only use the highest quality materials for all of our work, so you can rest assured that your roof is built to last. 
Licensed and Insured Roofers serving Tulsa and Surrounding Areas
As a fully licensed and insured commercial roofing company, our team of workers are experienced in all phases of roof installations, roof repair, roof maintenance, and skylight repair. VH1 Roofing is a GAF Certified™ Contractor, and meets strict requirements to earn and maintain our certification. We are also members in good standing with the Better Business Bureau for providing superior service to Tulsa, Oklahoma residential and commercial property owners.
Tulsa Roofers with Warranty-Backed Service
Our company is made up of Oklahoma residents who take pride in their work, ensuring that your new roof is installed by contractors you can trust. VH1 Roofing of Tulsa provides a 10-year 100% warranty for service. Our commitment to customer satisfaction includes open communication, attention to detail, and leaving you with a clean job site when we're finished.
Commercial Roofing Services in Tulsa 
VH1 Roofing offers the best in commercial roofing services for buildings of all sizes across the Tulsa metro area, including the use of high-quality GAF materials. 
Our commercial services include:
Commercial roof installations

Commercial roof repairs

Commercial re-roofing

Roof maintenance

Roof inspections

Flat roofing

Low slope roofing

Commercial shingle roofing
Free Commercial Roof Inspections in Tulsa
VH1 Roofing professionals understand local ordinances and permitting requirements for commercial roof construction in Tulsa and provide inspections of your roofing before and after. 
We offer a wide variety of roofing materials including Built-Up Roofing (BUR), Membrane Roofing, Spray-On Silicon Roofing, Thermoset EPDM Roof Membrane and Thermoplastic PVC & TPO Roof Membrane.
Our team will be happy to educate you on these materials to make the best choice for your commercial property's needs.  
Whether your commercial property needs small repairs or is dealing with a large insurance claim, we have the experience and expertise to perform a quality job while working with your budget. Hire our Tulsa-based roofing professionals to provide a roof that protects your business's assets and provides a great look for your business.
Roofing to Improve the Value of your Home
Tulsa's housing market was rated the fourth hottest market in America in 2020. If you're thinking of selling your home, getting the most out of your investment could include replacing or repairing your roof. Cosmetically, a new roof is one of the most effective ways to up your home's curb appeal and we have a wide variety of colors and materials to help you do just that.  
Roof Installations and Skylight Repair for Tulsa Homeowners
If you're preparing for appraisal day, our team can inspect your roof and offer insights into its quality and care. Whether you've noticed you have a leaky skylight or buckled shingles, or it's been a while since you've given your roof the attention it deserves – contact us for free estimates, full-service repair, or full roof replacement.  
We provide attention to detail, outstanding workmanship and an understanding of roofing needs unique to Tulsa's environment, climate, and housing trends. 
We provide Tulsa homes with rolled roofing, asphalt shingles, and reflective roofing that can save you on energy costs. 
We offer roofing solutions for every budget to improve the value and quality of your home.
Call us for a free inspection today!  918-630-7788
VH1 Roofing Services
WE GET THE JOB DONE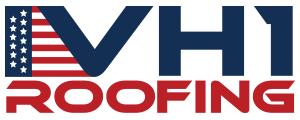 We Are Open 24 Hours A Day
7 Days A Week