Frequently Asked Questions
WE GET THE JOB DONE
Should I repair or replace my roof?
We will gladly perform the inspection and give you our professional recommendations. A repair may be all you need or may buy some time before your roof needs to be replaced. We will provide an honest assessment and never pressure you into doing more than you need.
How long does a roof replacement take?
Most roofs are completed in 1 day for minimal disruption to your schedule. Larger projects and some specialty systems usually require more time.
What roofing options do you offer?
Clay and Concrete Tile, Natural and Synthetic Slate, Metal shake, Stone Coated Steel, Standing Seam Metal, Composition Shingles, TPO, Modified Bitumen etc.
How long will it take for me to get my roof replaced?
We can typically complete a standard roof in one day. Large projects or specialty roofs may take longer, and we'll communicate an estimated time frame for your project before we begin. When you work with VH1 Roofing, you get to schedule your roof replacement at a time that works best for you.
Does VH1 Roofing offer payment plans?
VH1 Roofing partners with Hearth® Contractor Customer Financing to offer monthly payment options for your roofing project.
Prequalify by submitting a quick financing request. Checking your options won't affect your credit score.
Do I need to replace my roof?
The lifespan of an asphalt shingle roof is 15-30 years, depending on factors such as climate and extreme weather events like hail, tornadoes or strong winds that are common in Oklahoma.
Contact VH1 Roofing for a free inspection of your roof to check for leaks, missing or damaged shingles, and moss or algae growth.
How much does it cost to have your roof tarped?
Depending on the size and severity of the damage, the cost of getting a roof tarped can vary. It is important to note, however, that your homeowner's insurance may cover the cost of tarping services if you were affected by a recent hail storm, tornado or severe winds.
Contact VH1 Roofing for 24/7 roof tarping in Tulsa, Oklahoma City and all of the surrounding areas at an affordable price.
Does my homeowner's insurance cover roof replacement?
Yes, most homeowners' insurance policies cover the cost of repairing or replacing your roof. The specific perils covered vary by policy, but you can usually look forward to protection against fires, hail and tornadoes. VH1 Roofing professionals can help you file a claim with your insurance company if a recent storm has damaged your home.
What are the signs of hail damage on my roof?
Hail damage is often hard to spot. If you notice dents in gutters, spouts, or on siding, you may want to have your roof inspected for further damage.
It's not just large hail that can damage your roof. Even small hailstones can cause unseen leaks and other problems. If you've been hit by Oklahoma hail recently, schedule a free roof inspection with VH1 Roofing today. By taking this proactive step, we can help ensure that your roof is in good condition.
VH1 Roofing Services
WE GET THE JOB DONE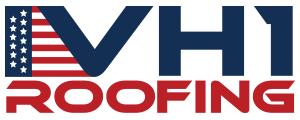 918-630-7788
405-760-9814
We Are Open 24 Hours A Day
7 Days A Week