Residential Roofing Repairs and Replacement in Broken Arrow, Oklahoma
Residential Roofing Services in Broken Arrow
Upgrade the quality of your roof with our dependable residential roofing services in Broken Arrow, OK.
Professional Residential Roofing Services in Broken Arrow You Can Count On
Your roof is one of the most visible aspects of your home and is an important element of your curb appeal. It also provides protection for you and your family against the elements. That's why it's important to choose a qualified contractor when undertaking any roofing project.
This is where VH1 Roofing comes in. From roof installations to roof repairs and replacements, we're committed to leaving your roof looking its best. Our Broken Arrow residential roofers will take you through the entire roofing process so that you are fully aware and comfortable with the work at hand. We pride ourselves on meeting your roofing needs within the guaranteed timeframe.
All-Inclusive Residential Roofing Solutions Broken Arrow, OK
Residential Roof Installation
Installing a new roof is a very difficult and stressful task. While you may be tempted to give it a try on your own, it may lead to costly mistakes or even injuries. If you want your roof to be properly installed, we have a team of Broken Arrow roof installation experts at your disposal.
Whether you're adding on to an existing residence or building your dream home, we will coordinate your installation process and ensure you get the best results.
Residential Roof Repairs
Your roof plays an important role in keeping you and your loved ones safe from the elements. Having a sturdy roof is essential for a homeowner. But with time, your roof may begin to sag, leak, or experience other types of damage. When you have a roofing problem, you need to get help right away before more serious issues develop.
Our emergency roof repairs in Broken Arrow can help you mitigate potential damage and restore your roof's integrity. Whether it's your skylight or your shingles, we'll figure out the cause of the problem and offer aid as fast as possible.
Residential Roof Replacements
Oklahoma storms can take a tremendous toll on your home. From hail punching holes on your roof to strong winds blowing shingles away, your home's protective layer may be completely ruined. When you get a storm-damaged roof, you can get in touch with us and we'll come to fix it right away.
Our Broken Arrow roofing contractors specialize in roof replacements for homes damaged in storms. We'll assess the damage, talk to your insurance provider, and install a beautiful and durable new roof.
Residential Roofing Inspections/ Maintenance
Some roof problems are easy to detect. But signs of roof damage are often more subtle, especially if they occur within the roofing structure. These issues can get worse over time and lead to expensive roof repairs or replacements.
You can avoid these hassles by scheduling our regular inspections to help you determine the condition of your roof and its underlying structure.
Signs You Need To Call Our Roofing Contractor
in Broken Arrow, OK
Sagging Roof
Have you noticed that your roof is sagging? Something may be structurally wrong with it. Whether it's due to a damaged beam or inadequate support, you may need qualified roofers to fix the issue.
Water Damage
Water stains in your ceiling and attic are a clear indicator of a leaking roof. You should visit your attic once in a while to check for these signs. Call our roofing contractor as soon as you notice water leaks. It'll help prevent severe water damage.
Changes in Your Energy Bill
One of the factors that contribute to your monthly utility bills is your roofing system. If you notice an increase in your energy costs, you may have a damaged roof. To save money, you may need help from a roofing contractor.
Accumulated Granules
Do you have asphalt roofing? Your asphalt shingles can break down over time. If you notice accumulated granules at the bottom of your downspouts or in your gutters, you shouldn't ignore them. It's a sign that your asphalt roofing is deteriorating and you may require professional roof replacement services.
Loose Nails
Loose nails can't offer suitable support for your shingles. This can increase the risk of your shingles getting damaged during a storm. Also, the loose nails can go missing, leaving room for water leaks.
Paint Stains, Mildew, and Blistering
Sometimes you don't need to look up at your roof to check for issues. If you notice paint blistering or staining, chances are your roof isn't in good shape. What's more, having accumulated moisture trapped in your house can be a sign of roof damage. Also, in case you notice mildew and mold, call a roofer to assess your roof's needs.
How Our Process Works
Step 1: Inspection and Estimate
We perform an inspection and identify issues on your roof. Our roofer will then provide a detailed written quote for the project.
Step 2: Scheduling
Our Broken Arrow roofing contractors can set a target start date and estimated deadline. It will depend on the scope of your roofing project.
Step 3: Start Your Roofing Project
Whether you need a roof installation, repair, replacement, or maintenance, we'll get the job done on time and within budget.
Step 4: Final Cleanup
Once we complete your roofing project, we will clean up your entire property for any fallen trash like nails or shingles.
Why Choose Us?
VH1 Roofing is a dedicated roofing company prepared to help Broken Arrow residents handle their roofing needs. Our expertly trained and licensed roofers use innovative materials and equipment to take care of your roof.
We strive to satisfy each of our clients with the highest level of professionalism and individualized roofing service. Our roofing contractors always work hard to ensure your project is complete by the stipulated deadline. As a reputable roofing company, we are open 24/7 and ready to take care of all your roofing requirements— no matter how large or small.
Dependable Top-Rated Roofing Company in Broken Arrow, OK
Looking to work with roofing companies that offer finance options? VH1 Roofing has you covered for all your residential roofing needs. We've partnered with Hearth to bring you easy online financing for your roofing project.
Get in touch to learn more: 918-630-778.
VH1 Roofing Services
WE GET THE JOB DONE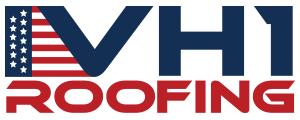 We Are Open 24 Hours A Day
7 Days A Week