Roofing Services in Oklahoma City, Oklahoma
VH1 is proud to be a Roofing Contractor in Oklahoma City
Our professional roofers at VH1 Roofing have been working hard to build a strong reputation as the premier roofing service provider for Oklahoma City homeowners and businesses. From the Underground to Bricktown to Yukon, Mustang and Moore – Oklahoma City is one of the hidden gems of America for its beauty and especially for its wonderful Oklahomans. VH1 Roofing is proud to work for such great people in a city that's consistently ranked as one of the friendliest cities in America.
Roofing Contractors in OKC, Moore, Mustang and Edmond
Our focus is on high-quality work at a fair price, and we're excited to serve OKC. We employ competent professionals with decades of experience in the Oklahoma roofing industry. In addition to Oklahoma City, we also provide roofing services for Newcastle, Yukon, Moore, Mustang, Piedmont. and Tuttle. Our professional team has experience helping residents and businesses all over the state of Oklahoma and we're happy to call OKC home as well. 
Certified Roofing Contractors in Oklahoma City
VH1 Roofing is GAF Certified™ Contractor, we use agreed-upon best practices for installation techniques to give you a roof you can trust to last. VH1 will be here in Oklahoma City for your roofing needs for years to come, standing behind our warranty. We believe in the products and services we offer and we stand on excellent customer service because we value your business.
VH1 is the Best Choice for Commercial and Residential Roof Repair in Oklahoma City
VH1 is a GAF Certified Roofing Contractor; only 7% of roofers in North America meet these qualifications. We are fully insured with General Liability and Workman's Compensation Insurance and provide a 10-year service warranty on our work. Our products are always high-quality and made right here in the USA. 
Trustworthy Local Roofers in Oklahoma City
We have a proven reputation for top-notch service throughout the state of Oklahoma and understand the specific roofing requirements of Oklahoma City's residential and commercial structures. We are educated on local codes and ordinances surrounding roofing construction and our experienced team has been extensively trained in best practices and the most up-to-date techniques in the country. 
VH1 Roofing has a 5-star rating with the Better Business Bureau and we work hard to keep a great reputation so you'll share our information with your family and friends. You are our best advertisement!
Roof Replacement in OKC Done Right.
What makes a great roof? It lasts long, is strong, and looks great. The best are those with durable materials combined with expert installation. That's what VH1 brings to the table for Oklahoma City residents, and we do it all at a competitive price. Our services include:
–Roof Installation
–Roof Repair
–Skylight Repair
Your Choice for Skylight Repair in Oklahoma City
If you have a leaky skylight, or a skylight you didn't plan on, we are here to help. Not only do we offer emergency tarping 24/7, but we work directly with homeowner's insurance companies to get you the help you need to fix your roof. 
Our Roofers Work with Insurance Companies to Repair Storm Damage
We know Oklahoma weather can get a little crazy; we were born and raised here and we've seen it all! That's why we make sure to advise you on the best materials and roofing options to stand against hail damage, high winds, ice dams, high humidity, and all of the other exciting weather changes we experience in the Sooner State. 
We know what Homeowners Insurance Companies are looking for and can work directly with insurance adjusters to get your roof repaired or replaced quickly and simply. We also perform detailed inspections before and after completion of our work to ensure we've provided the best roofing installation available in Oklahoma City. 
Hail Damage Roof Repair for Oklahoma City Homes
We offer Free Home Storm Damage Insurance Claim Estimates. Allow us to inspect and assess your roof; we'll share our findings with your insurance company and provide a fully detailed cost estimate. Our company will schedule your repairs right away. We'll provide a 10-year full warranty on your asphalt shingle roof upon completion.
We offer a variety of options for asphalt shingles including brown, red, black, and grey options which can completely change the look of your home and add to your curb appeal. We also offer energy-efficient options that can assist you in keeping heating and cooling costs low. Whatever your goals are for your new roof, we're trained to supply and install the best options on the market. A new roof can increase the value of your home and can give you the peace of mind that your investment is well protected. 
Commercial Roofing Services in the OKC Metro Area
Our team offers over 20 years of experience in Oklahoma's commercial roofing industry. Our qualified roofing professionals can help you choose the optimal roofing solution for your business or residential needs. 
These systems are made with rubber-like liquids that dry into rubber-like waterproof sealants for your commercial roof.
Built-Up Roofing Systems (BUR)
These systems use several layers of materials to protect your structure.
Thermoplastic PVC & TPO Roof Membrane 
TPO and PVC are great roofing solutions for flat roofs and low slope commercial roofing.
This solution is made from asphalt and can be applied in multiple ways for your roofing needs.
This metal edging is one of the most popular commercial roofing solutions for gutters and trim and is available in a variety of colors. 
Oklahoma City Emergency Roof Repair and Tarping
VH1 Roofing is here to help when disaster strikes. We are available 24/7 to provide your home and family with the safety you need. Immediate response to storm damage minimizes the risks of water and structural damage as well as electrical fires. 
Once you call us, our crew will come to your home to assess the damages and strategize on the best steps to take to protect your home. Leaks or damage to your roof needs to be responded to immediately. If necessary, we may tarp the damaged area and return soon to repair the area fully when conditions are more favorable. 
We know damage to your roof can be a stressful experience. Call us day or night at 405-760-9814 for urgent assistance.
VH1 Roofing Services
WE GET THE JOB DONE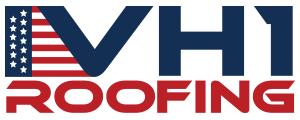 We Are Open 24 Hours A Day
7 Days A Week